I've made this a couple of times and I've made a couple of tweaks. The last time we made it was at Jake's parent's house (I brought up our extra cabbage from BeWise Ranch). We served it with grilled tri-tip and polenta. We made a horseradish sour cream to go with it and I think it's a winning combination. I'm going to try fennel seed and caraway in the future.
¼ cup tomato paste
3 garlic cloves, finely minced
1½ tsp. ground coriander
1½ tsp. ground cumin
1 tsp sugar
1 tsp smoked paprika
1 tsp. cholula, sirracha, or red pepper flakes
1 medium head of green cabbage
½ cup extra-virgin olive oil, divided
Kosher salt
3 tbsp. chopped dill, parsley, or cilantro
1/2 cup Sour Cream
1 tsp prepared horseradish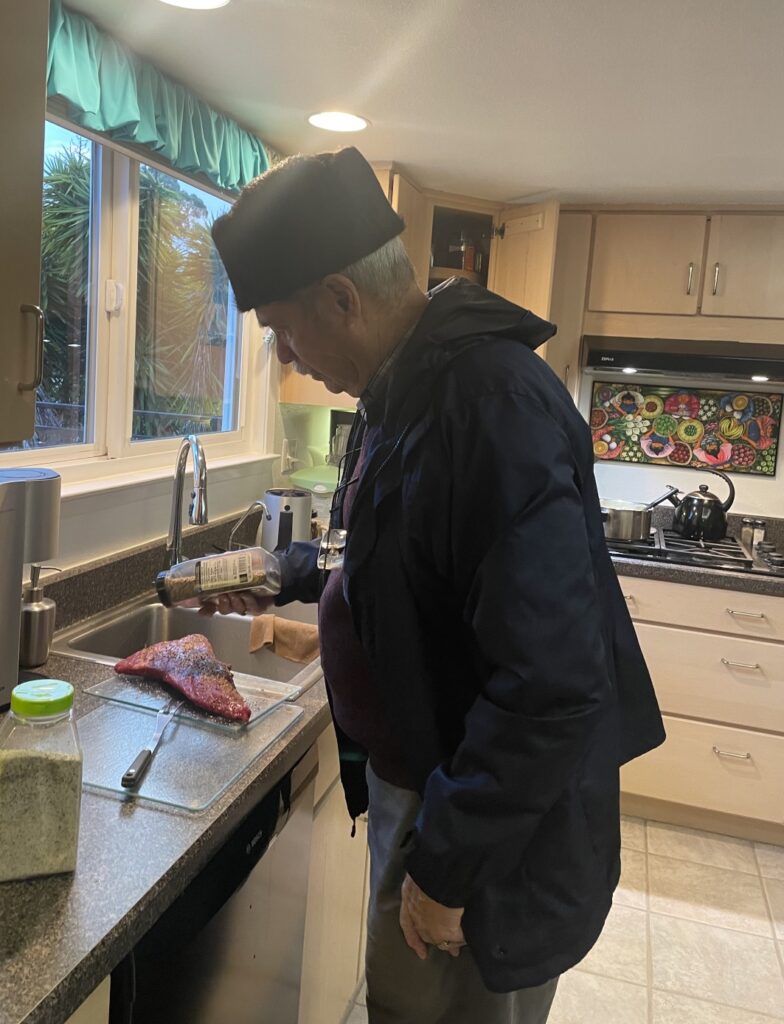 Preparation
Preheat oven to 350°. Mix tomato paste, garlic, coriander, cumin, and hot sauce in a small bowl.
Cut cabbage in half through core. Cut each half through core into 4 wedges. You can trim the core out a little but the core will help to keep ithe pieces together while you try to turn them in the roasting process.
Heat ¼ cup oil in a large cast-iron skillet over medium-high. Working in batches if needed, add cabbage to pan cut side down and season with salt. Cook, turning occasionally, until lightly charred, about 4 minutes per side. Transfer cabbage to a plate.
Pour remaining ¼ cup oil into skillet. Add spiced tomato paste and cook over medium heat, stirring frequently, until tomato paste begins to split and slightly darken, 2–3 minutes. Pour in enough water to come halfway up sides of pan (about 1½ cups), season with salt, and bring to a simmer. Nestle cabbage wedges back into skillet (they should have shrunk while browning; a bit of overlap is okay). Transfer cabbage to oven and bake, uncovered and turning wedges halfway through, until very tender, liquid is mostly evaporated, and cabbage is caramelized around the edges, 40–50 minutes.
Scatter dill over cabbage. Serve with yogurt alongside.
The original recipe is from Bon Appetit