We made 30lbs of pulled pork for our New Year's Day party this year. We did a few test runs beforehand to make sure there was no panic at serving time and I still second guessed myself on cooking time. The translation of my 2.5lb roast to 6 5-6 lb roasts needs a little tweaking. I think good to remember for next time is that it's perfectly ok for the pulled pork to be done hours before it needs to be served. It seems to only get better with time.
Here's the recipe: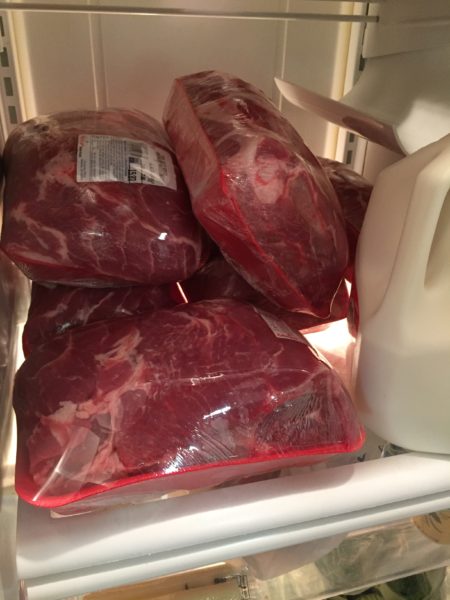 'Not so Sweet' Pulled Pork
2.5 lbs pork butt or shoulder
salt and pepper
drizzle of oil
For the sauce:
1/4 cup apple cider vinegar
1 t salt
1/2 t black pepper
1/2 t celery seed
1 t dried thyme
1/2 t smoked paprika
1/2 t ground mustard
1 t worcestershire
2T brown sugar
1/2 onion, chopped
2 cloves garlic, minced
8 oz can tomato sauce
Season the pork with salt and pepper. Brown on all sides in a drizzle of olive oil.
Mix the sauce ingredients in a bowl.
Place the pork in a roasting pan or dutch oven and pour the sauce all over. Cover and cook at 300 degrees for 6 hours.
Check at 3 hours and see if the sauce is cooking down too quickly. If so, add 1/2 – 1 cup water.
If the sauce doesn't cook down enough once the pork is tender, you can pour off the sauce into a small sauce pan and reduce to your desired consistency.
We also had some amazing cheese from Taj Farms as well as these Zucchini Pickles, Marinated Mushrooms, and Bean & Corn Salad.