Ingredients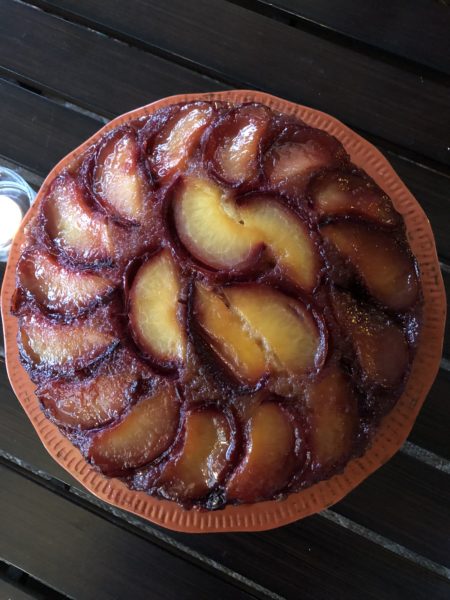 Plum Upside Down Cake
2018-09-09 15:00:30
Ingredients
PLUMS
3/4 cup sugar
1/3 cup water
2 tablespoons unsalted butter, softened
1 1/2 pounds medium plums (about 6), pitted and cut into 1/2-inch-thick wedges
CAKE
1/2 cup sour cream or yogurt
2 tablespoons whole milk
2 teaspoons pure vanilla extract
1 1/2 cups all-purpose flour
2/3 cup sugar
1 teaspoon baking powder
1/2 teaspoon baking soda
1/2 teaspoon salt
1 1/2 sticks unsalted butter, softened
2 large eggs, beaten
Instructions
Step 1 Prepare the Plums
Preheat the oven to 350°. In a small saucepan, combine the sugar and water and bring to a boil without stirring. Cook over high heat, washing down the side of the saucepan with a wet pastry brush, until an amber-colored caramel forms, 5 to 7 minutes. Remove from the heat and whisk in the butter. Immediately pour the caramel into a 9-inch (2 inches deep) metal cake pan. Carefully arrange the plum wedges in the caramel in concentric circles.
Step 2 Make the cake
In a small bowl, whisk the sour cream with the milk and vanilla. In a large bowl, using a hand mixer, mix the flour with the sugar, baking powder, baking soda and salt. At low speed, beat in the butter until the mixture resembles moist crumbs, about 30 seconds. Beat in the eggs at low speed until incorporated, then beat the batter at medium-high speed until light and fluffy, about 1 minute; scrape down the side of the bowl. At medium speed, beat in the crème fraîche mixture until smooth, about 30 seconds. Scrape the batter over the plums and gently spread 
in an even layer.
Step 3
Bake the cake in the center of the oven for 55 to 60 minutes, until golden and springy. Let cool in the pan on a rack for 30 minutes, then invert 
the cake onto a serving plate. Cut into wedges and serve warm or at room temperature with whipped cream.
Make Ahead
The cake can be stored in an airtight container overnight.
One Red Couch https://oneredcouch.com/